AquaClean is an innovative 3-in-1 system that provides all the facial care you need: Vacuum for deep cleansing, Electroporation for solution penetration, Double Lifting for firmer, smoother skin. 
AquaClean aquafoliates without drying the skin and cleanses the pores without irritating the skin. AquaClean's unique ALIVE™ Technology (Aquaporin Liquid Infusion Vacuum Exfoliation) nourishes young skin cells to reveal glowing rejuvenation while automatically lifting and vacuuming waste and skin debris at the same time.
AquaClean uses 4 different types of the solution along with advanced vacuum technology. It is an innovative skin control system that works in 3 steps to dissolves impurities and other causes of skin problem, then supplies nourishing properties to the skin, resulting in reduced pore size and healthier skin.
AquaClean is an effective system recommended to treat blackhead, acne, Demodex, mites, sebum, etc. Blackheads formed by perspiration, sebum, and dust particles blocking pores are removed using AquaClean treatment with ease.
The solution is emitted from the central aperture and spread along the solution path while in contact with the skin, dissolving impurities then exits through the waste inlet port. The emitted solution will spread in radial motion for longer contact duration. Radial motion of solution penetrates deeper and faster. The rapidly absolved solution will dissolve impurities deep in the skin.
Dermal Bacteria Removal
Restores Tone, Texture, and Clarity
Moisturizing
Deep Pore Cleansing
Blackhead & Whitehead Removal
Gentle Liquid Exfoliation
Improves Elasticity & Circulation
Serum Infusion
Smooth & Hydrate Fine Lines, Wrinkles
Circulation & Blood Flow
Reduces Hyperpigmentation
Pore Reduction
Skin Glow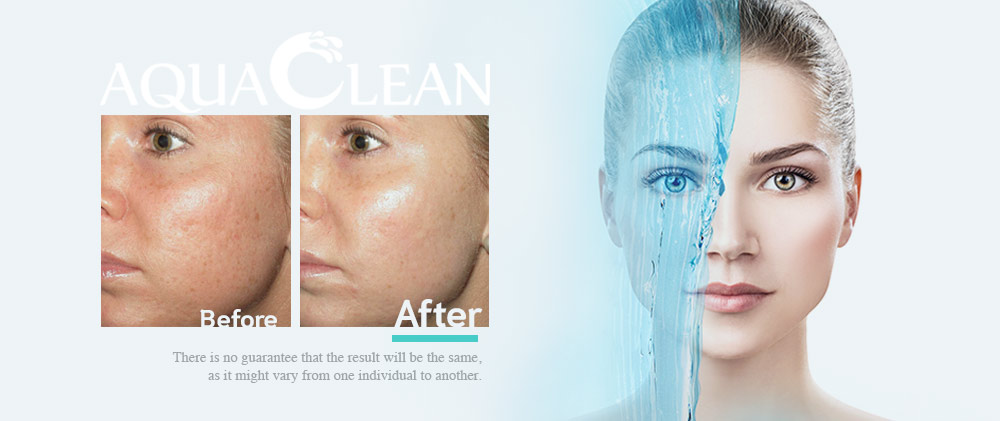 The process is abrasion-free, without sharp edges, gentle, painless and non-invasive. There is no downtime after the treatment.
The pressurized liquid is pulled across the skin by vacuum suction and emitted in a circular pattern that becomes a vortex which gains momentum in speed and energy. When this vortex of liquid energy encounters tissue, the liquids' pressure increases and promotes the infusion of the rejuvenating liquids into the cells via Aquaporin water channels.
This principle allows immediate natural infusion of Aquafusion Solutions into the cells for longer-lasting results. Restore tone, texture, and clarity of your skin with AquaClean.
Try AquaClean — luxurious Liquid Facial Rejuvenation!