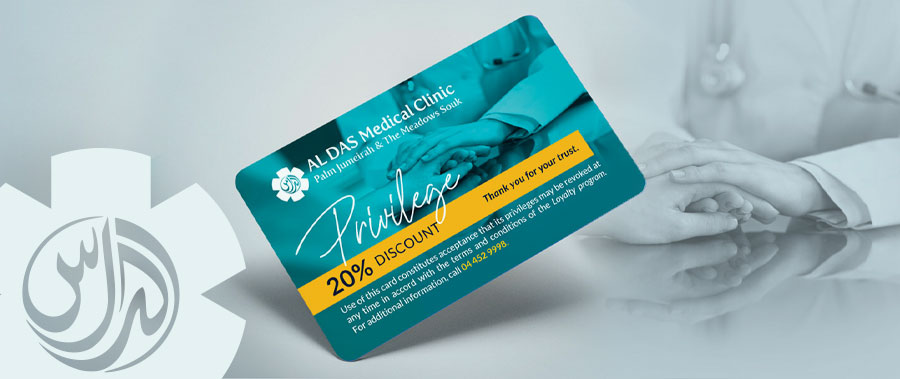 If you have our Loyalty Card, here you can learn more about the Terms & Conditions of AL DAS MEDICAL CLINIC Loyalty program:
By using the ADMC card, you agree to abide by the terms and conditions of the ADMC loyalty program.
Your ADMC card can be used across all areas of the businesses but not: in conjunction with any other offer or discount, during public holidays and 31st December.
To be able to use a 20% discount under the ADMC loyalty program you must present your card at the time of the transaction.
Participating outlets may be added or deleted in the future, and members will be notified via their Company HR department or ADMC website.
Members can use the card from the announced day.
Members will be offered special product deals by email campaigns. These specific deals from time to time will have bonus discounts attached.
Members are responsible for advising changes to their contact details to our front desk.
To replace a lost or stolen card, please contact ADMC.
ADMC at its sole discretion reserves the right to terminate the card if misuse of the card or operating the card in a manner which is deemed as a breach of the Terms and Conditions.
Notice will be provided to members should ADMC or its affiliates decide to terminate the program at any stage. Members will be notified via our website www.aldasclinic.com. From the date of such notice until the termination of the program, cardholders may still use their loyalty card.
ADMC may make changes at any time without prior notice to members to the terms and conditions and the reward schedule. ADMC will attempt to notify members of any changes, but shall not be liable in any way for failure to do so.
ADMC may collect information about members, including information contained in the application form and information, as to transactions that will be held in the membership database. The membership database contains member information such as name, email, address, telephone number, date of birth.
Disclaimer: Payments for selected packages are non-refundable. Once bought, the selected package of services cannot be exchanged for another service or package of services from our offer. All other services that are not part of the packages and medications additionally prescribed by our doctors are paid separately from the package price.