Laser hair removal is a safe process that will permanently reduce or remove any unwanted hair quickly and easily with long-term results. At Al Das Medical Clinic you can achieve that silky smooth skin in a safe and painless way.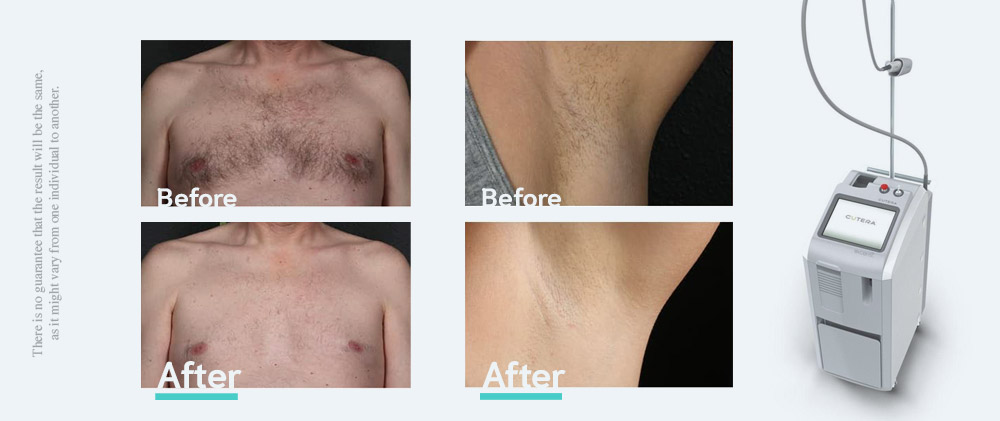 How Does Laser Hair Removal in Dubai Work?
During laser hair removal, a laser emits a light that is absorbed by the pigment (melanin) in the hair. The light converts to heat, which damages the hair follicle that produces hair. This damage inhibits or delays future hair growth.
How Long Does It Last?
First, you have to be patient. It takes two or three weeks after your first treatment to see a difference, and 4-6 treatments to get the full result.
Your hair follicles are all at different stages of their growth, so you want to make sure each one has a chance to get treated. The treatment is pretty fast: for example, the full face appointment takes less than 20 minutes.
If you are regular with your appointments and follow your doctor's advice, the results will be permanent.
How to Prepare for Laser Hair Removal?
The area must be cleanly shaved within 12 hours before the treatment. Electric razors are not recommended as the hair is typically left too long.
Do not tweeze, wax, or pluck the area being treated between or before sessions. 
The treatment area needs to be free from makeup, lotion, deodorant, and sun cream.
The area cannot be treated if it has been exposed to the sun within 4 weeks before treatment.
Fake tanning products cannot be used 3-4 weeks before treatment; the area should be thoroughly exfoliated to remove all residues.
Aftercare for Laser Hair Removal in Palm Jumeirah, Dubai
Avoid:
Exposing skin to UV light (sunlight or sunbeds) or self-tan for at least 2 weeks after treatment. 
Heat treatments (spas, steam rooms, and saunas) and hot baths and showers for 7 days.
Excessive scrubbing, scratching or applying pressure to the skin for 4-5 days. 
Shaving the treated area for 72 hours after treatment.
Exercising and pool swimming for at least 48 hours.

Make-up, perfumed products, or bleaching creams for at least 48 hours.

Waxing, tweezing, and threading for the complete duration of the treatment course.
Do:
Apply an ice pack on the treated area to reduce pain, discomfort, or irritation.
Apply Aloe Vera gel or calming creams for 3 days after the treatment.
Wear loose clothes to avoid friction on the treated area for 48 hours.
Keep the treated area clean and dry for 48 hours.
Drink plenty of water.
Use at least SPF 50 sunscreen with Zinc for at least 2 weeks.
Safe, Effective, and Comfortable Laser Hair Removal for the 21st Century
Raise your hands if you want smooth, hair-free skin that is born to touch! excel HR™ is the best solution available! Developed by the pioneers of laser hair removal technology in 2000, excel HR™ is the next generation of premium laser hair removal.
excel HR™ and its truPulse™ technology deliver consistent and sustained energy in every pulse – reducing the number of treatments required.
For women and men

For all skin types

For all hair types

Available all-year-round
excel HR™ offers continuous cooling before, after, and during each laser pulse – 100% of patients choose excel HR™ over other laser hair removal procedures.
Due to excel HR™'s superior technology, exceptional results can be achievable on all hair types:
underarms,

legs,

bikini area,

men's chest,

back,

arms, 

upper lip
and more.
Laser Hair Removal treatment in Palm Jumeirah will be delivered by Dr. Snezhana Cheshelkoska, GP and Beauty Expert.
Laser hair removal requires multiple treatments because the laser works best when hairs are in an early growth stage and all the hairs are not in this phase at the same time
The appearance of the treated area immediately following treatment will vary from patient to patient, depending on the extent of the procedure and the skin type
If done under medical supervision, side effects are rare and, if they do occur, are typically minor
Most people return to normal activity right away
Typical visible results can be seen after 3 sessions, but most clients reach their endpoint of hair-free results after 5 to 8 sessions
A good laser hair removal should reduce 30% of the hair that has been treated per session
No laser can reduce 100% hair in less than 5 sessions, especially not after only one session – stay away from the unrealistic offers that are promising these impossible results
Laser hair removal treatment will be delivered by Dr. Snezhana Cheshelkoska, GP and our beauty expert. Dr. Snezhana is an American Board certified Laser Therapist.
Have silky and smooth skin FOREVER!